Weather forecast and webcams
Click here for more details
(the 5 day Met Office surface pressure forecast for Snowdonia)
Click here for the Mountain Weather Information Service weather forecast for Snowdonia
or
click here for the 5 day XCWeather forecast for Snowdonia
plus
click here for a wind chill calculator
Snowdon webcam

Live link to the Snowdon Summit updated every minute
Webcam courtesy of Electric Mountain
Click on the image to enlarge

At times of poor visibility, please refer to the image below as reference for what you would be seeing on a clear day.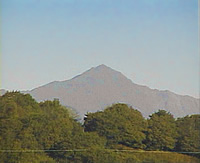 Webcam courtesy of Snowdonia National Park
Tryfan webcam
Webcam courtesy of Ogwen Valley Mountain Rescue Organisation.
"It's used by members of the team and may also be used operationally, so it's not always going to be up to date, but when it is we will usually point it at Tryfan."