Due to Covid-19 sadly, we will not be doing any 'open group' walks this year.
Special offers on guided walks
£45.00 per person for individuals who would like to join a small group (maximum 6 people) on selected dates shown below.
Join a small group for a guided walk with a qualified mountain leader, to summit Snowdon, the highest peak in England and Wales.
South Ridge

Paul has been walking the mountain for over 20 years and in his opinion, this route is the most stunning of them all (weather permitting!!). You will reach the summit via the South Ridge and descend back down along the South Ridge*. This route is generally quieter than the more popular paths but we must point out it is a moderate+ route with some exposure to height and the need to use your hands to help you easily scramble in small sections. It has stunning views of Snowdon and the Snowdonia National Park as well as out towards Port Madoc and the Llyn Peninsula.
Pyg Track/Miners Track

You will reach the summit via the Pyg Track and descend back down along the Miners Track. This route starts and finishes at Pen y Pass car park. It is a moderate route with some areas where off path you will be on scree. This is the most popular route to summit Snowdon.
Walkers will meet at the designated car park and must be there on time (usually 9.30am.)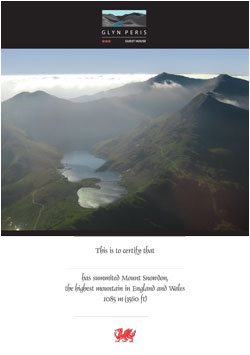 We ask for full payment in advance, within three days of booking. We will email/post you a receipt to confirm your place, along with a medical form and kit list.
Pack lunches @ £6.50 each are available for residents of Glyn Peris, and must be ordered on the day of booking or by 4.30pm on the afternoon before the walk.
Residents of Glyn Peris will receive a certificate to commemorate their achievement. (Certificates are also available to non residents @ £4.00.) There is a free flask-filling service for our guests.
* Your guide will be assessing the group's ability throughout the walk and we would like to point out that after summitting Mount Snowdon, your guide may feel it necessary to bring you down an alternative route. This would only be done if a member of the group was struggling or unwell. Keeping the group together and safe is your guide's first priority. In this case, a bus or cab fare may be incurred for you to return to your vehicle.
Select a date from the list below and contact us to book your place.
2021
Further dates to be announced.
Please note, discount vouchers cannot be used on these Special Offers
Cancellation
The walk will only take place if a minimum of 3 people have booked. There will be a full refund if the walk is cancelled for this reason
If the walk has to be cancelled due to adverse weather conditions, an alternative low level walk will take place. If this is not possible, the walk will be rescheduled for one of our other special offer dates within the same year, subject to availabiity.